This year marks the 80th anniversary of celebrating childhood dental health in the month of February. In the 1940s and 50s, a growing understanding of dental disease, and hygiene, made many educators, parents, and politicians focus on early prevention and improved dental hygiene for children. The history of Children's Dental Health Month has expanded over the years, bringing the gifts of improved hygiene and health to our children's smiles.
"The health of our children is of supreme importance to the future of the nation." – Harry S. Truman, 1950
80 Years of Bringing Awareness to Children's Dental Health:
How did we get to the way we celebrate today? Over the years, many groups and advocates contributed to the observance of the holiday. Check out this timeline of events:
1941 – the first Children's Dental Health Day took place on Feb. 3, 1941, in Cleveland.
1949 – the American Dental Association (ADA) held its first observance of Children's Dental Health Day
1955 – the Association expanded it to a week-long observance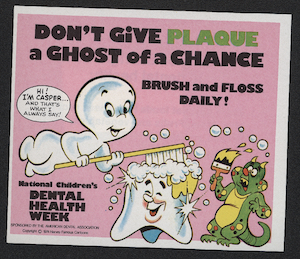 1964-1965 – The ADA cosponsored episodes of "The Dick Van Dyke Show" as part of the week of awareness
1975 – Casper the Friendly Ghost helps promote dental health awareness in kids
1981 – The ADA expands the observance to a whole month, as it stands today.
1985 – Kermit the Frog celebrates by recruiting Tooth S.L.E.U.T.H. Inspectors (Students Learning to End Unhealthy Tooth Habits).
2021 – We're celebrating healthy smiles with the theme "Water, Natures Drink"
Visit the ADA Website to learn more about the history of Children's Dental Health Month.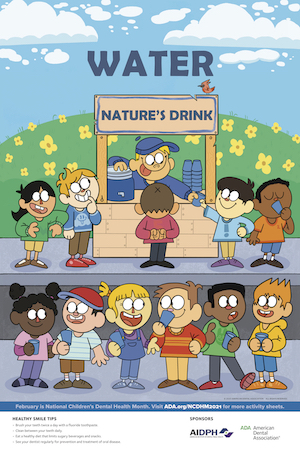 Why Water?
What we choose to drink matters. Water washes out bacteria, strengthens our teeth with fluoride, and keeps us healthy in many more ways too. From our under-the-sea office theme to our favorite thirst-quencher – South Valley Pediatric Dentistry clearly loves the ADA's water-centric theme. In fact, we've been talking about water for years; Check out our blog, What's With Water to learn more!